Michele Montas Named Spokeswoman for Ban Ki-moon
The
New York Times
reported today Ban Ki-moon, the United Nation's newly elected Secretary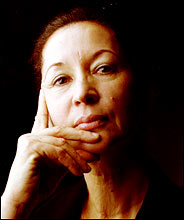 General replacing Kofi Annan has hired Haitian Journalist Michele Montas as his spokeswoman. Montas who has prior experience working in the UN, serving as the spokeswoman for the President of the General Assembly, is better known for her active role as a journalist and radio broadcaster in Haiti. Working alongside her husband, fellow Haitian journalist Jean Dominique who was assassinated in April 2000, Montas was one of the most strident dissident voices in Haiti during the 1980s and 90s.
Montas was also one of the producers of Jonathan Demme's documentary,
The Agronomist
, which depicted the life of Jean Dominique and his career at Radio Haiti-Inter, the radio station that he founded.
In addition working as a journalist, Montas has been a human rights activist and consistent international lecturer on Haiti.